PLEASE NOTE:  As of July 2016, due to an influx of interest and our club size, we are not currently accepting new members / applications.  When our membership re-opens, this page will be updated to reflect that.  Thank you for your interest!
Paws Squad believes in creating positive relationships between humans and dogs through partnership based activities like agility.  New members are welcome, and novice handlers are encouraged to join.
Are you interested in becoming a Paws Squad member?  Download an application here! Membership application form  We are not currently accepting new members.  Thank you for your interest.  Please check back.
Before you apply, read the Paws Squad Canine Sports Club Membership Rules 2015 here.
A dog sport team is a partnership between handler and dog; that partnership is all too short.  Visit our Memorial page to see the loving tributes to the canine partners of Paws Squad members who are no longer with us.
OUR CLUB HISTORY
Paws Ahead Club was started by Roxanne and Terry Ziefflie on Aug 18, 2004.  It was affiliated with Roxanne's dog day care and agility training business of the same name in North Burnaby, British Columbia.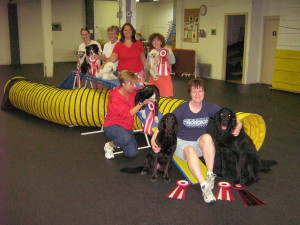 2006 – Paws Ahead Club members that qualified for the AAC Nationals:  
Elisha with Echo, Jean with George, Hilary with Bijou, Sheila with Pat's dog Peaches, Sandy with Heidi, and Paws Ahead founder Roxanne with Cynder and Bandit.
In 2007 Roxanne sold her business and moved out of the lower mainland.  The club purchased the equipment and became a separate entity from the company. In 2009 the club changed its name to Paws Squad, to differentiate itself from the business of Paws Ahead.  Two of the original members of Paws Ahead are still part of the club today.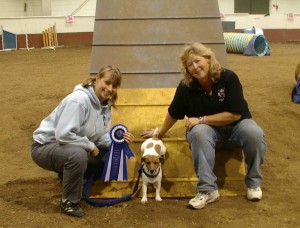 2005 – Elisha and her dog Echo achieve their MAD (Masters Agility Dog of Canada) title
Today Paws Squad has about 25 active members.  It holds monthly club practices open to all members.  The club puts on several demos throughout the year at various festivals, corporate events and functions.  It holds one AAC sanctioned trial per year, open to all AAC members.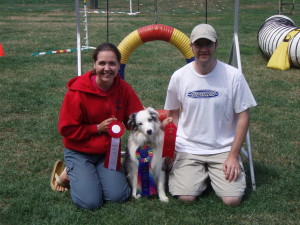 2005 – Keryn and Misty achieve their ADC (Agility Dog of Canada) title